AirTAC ESV620 ISO Standard solenold valve
Product feature
Succinct appearance and compact conformation.
The installation size conforms to ISO 5599/1 standard.
Because of the special seals, the feature are large flow rate and long lifetime.
For 200/300/400 series you can adjust the installation direction of the gasket to change the acting type: internal pilot, or air control.
You need install the valve together with the sub-base. There are individual and parallel type for manifold sub-base.
There are various connection and installation method for manifold. It is easy to use.
The manifold of 200/300/400 series have the function of exhaust throttling, so not need to connect another throttle valve.
Ordering code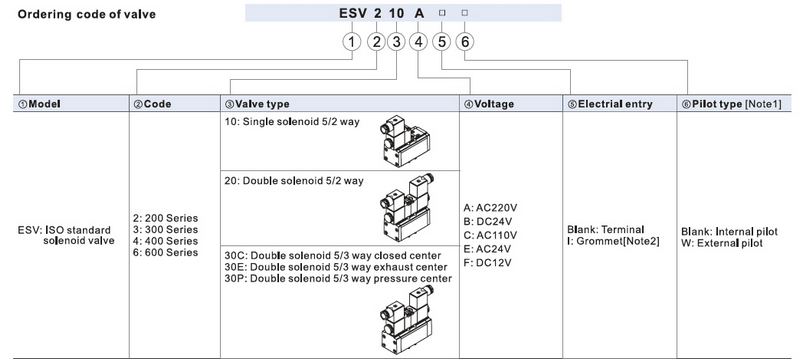 Model
200 Series
300 Series
400 Series
600 Series
Orifice size(Cv)mm
32(Cv=1.8)
42(Cv=2.32)
69(Cv=3.85)
108(Cv=6.0)
Fluid
Air(to be filtered by 40µm filter element
Acting
Internal pilot or external pilot
Lubrication 【Note 1】
Not required
Operating

Pressure

Internal pilot
0.2~1.0Mpa(2~10bar)(29~145psi)
External pilot
0~1.0MPa(0~10bar)(0~145psi)
Control pressure(External pilot)
0.2~1.0MPa(2~10bar)(29~145psi)
Proof pressure
1.5MPa(15bar)(215psi)
Temperature ℃
-20~70
Port size(manifold) 【Note2】
1/4"
3/8"
1/2"
3/4"
Poet size(end plate)
3/8"
1/2"
3/4"
1"
Voltage range
AC: ±15%                    DC: ±10%
Power consumption
AC220V/AC110V:4.5VA    AC24V:5.0VA    DC24V/DC12V:3.0W
Activating time

(0.5Mpa)Openclose

1020 Series
3341ms
4255ms
5068ms
5585ms
30 CEP Series
3850ms
5062ms
5068ms
5585ms
Insulation
B Class
Protection
IP65
Installation size
ISO5599-1 standard
Models
ESV620A, ESV620B.
Dimensions