YSF4II-35/50JBTH Pressure Relief Valve
Introduction
Pressure relief valve is suitable for oil immersed power transformer, power capacitor and cut-off and tap changer to protect oil tank.
When the oil immersed transformer fails in operation, some transformer oil is gasified due to the coil overheating, and the pressure in the transformer oil tank increases rapidly. At this time, the pressure relief valve acts quickly within 2ms to protect the oil tank from deformation or burst. When the pressure in the oil tank rises again and reaches the opening pressure, the pressure relief valve operates again until the pressure drops to the normal value. At the same time, it can also effectively prevent external air, dust, impurities and water vapor from entering the running transformer, so as to protect the transformer from damage.
Ordering code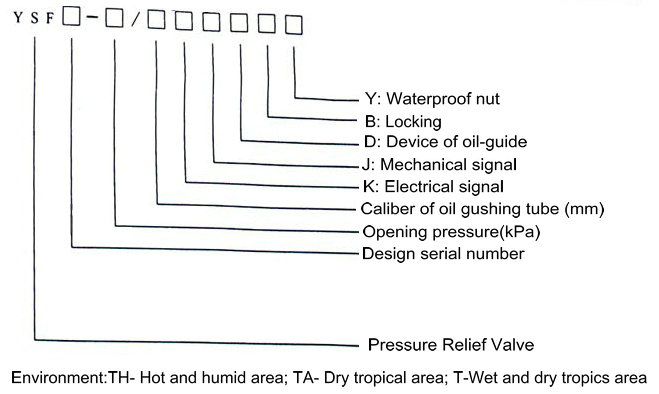 Specifications
Effective Caliber (mm)

Opening Pressure (Kpa)

Closing Pressure (Kpa)

Sealing Pressure (Kpa)

Ф20

Ф25

Ф50

15

±5

8

9

25

13.5

15

35

19

21

55

29.5

33

Ф80

Ф130

35

19

21

55

29.5

33

70

37.5

42

85

45.5

51
Model
YSF4II-35/50JBTH, YSF4II-35/50KJBTH.
Flange Installation Dimensions
| | | | | |
| --- | --- | --- | --- | --- |
| Caliber of oil-gushing tube (mm) | Փ25 | Փ50 | Փ80 | Փ130 |
| Internal diameter of connection | Փ45 | Փ80 | Փ130 | Փ165 |
| Center point distant of installation flange | Փ90 | Փ130 | Փ170 | Փ235 |
| Diameter of bolt X units | M10X3 | M12X4 | M12X6 | M16X6 |
Screw Installation Dimensions
| | | | | | |
| --- | --- | --- | --- | --- | --- |
| Caliber of oil-gushing tube (mm) | Փ20 | Փ25 | Փ50 | Փ80 | Փ130 |
| Total oil weight in oil-tank  (T) | ≤0.2 | <1.5 | 1.5~4.5 | 4.5~11.5 | 11.5~23 |