Description
YDF04-00 Hydraulic Operated Check valves
YDF04-00/X.Y.Z

Specification
| | |
| --- | --- |
| Max working pressure | 240bar |
| Flow Max | 18L/min |
| ③ to ② (Internal Leakage) | <0.3ml/min at 210 bar |
| Filtration of Oil | 25 µm or better |
| Temperature | -30~+100℃ (Standard Buna Seals) |
| Cavity | T4-S2S |
| Installation torque | 24.5~27.2Nm |
Description of the process
The valve allows flow form ② to ③ with very low pressure drop, while blocks flow from ③ to②.
The valve blocks flow form ③ to ② until sufficient pressure is applied at ①.
The valve has a 2.2:1 pilot ratio, meaning that at least 1/2.2 of the load pressure held at ③ is requred at ① to open the valve.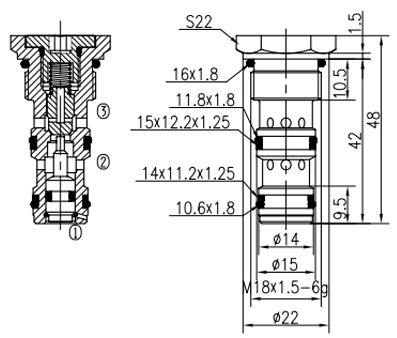 We will reply you within 24 hours on working days.