Description
ITS-506 Position Monitoring Switch
Description
ITS position monitoring switch is used for the valve and actuators which rotates 90degree quarter turn. The first function of ITS is to provide the visual indication of the current position of the valve and actuator. Dome indicator unit shows current position by color indication.
Secondly ITS provide electrical signal at the fully open or closed position by activating mechanical switches (SPDT, SPST), Proximity sensors and other magnetic sensors which independently makes function. Switches vary in a wide range and construction to meet customer's requirement.
Ordering code

Special Material
Position Monitoring Switches
Dome position indicator constructed from high impact resistance poly-carbonate material which offers instant visual recognition of valve or actautor position up to 50 meters distance.
ITS 500 series
Speical stainless steel housing(316L or Duplex) provide very high protection performance against extremely corrosive environmental condition.
Suitable for off-shore application.
Other specification is same with ITS 300 series except for enclosure & coating.
Construction Material
Housing
Low cooper aluminum die-casting
Coating
Epoxy-Polyester inside/outside(100 series)

Chromated /Epoxy-Polyester(300 series)

No painting on stainless steel housing

Sealing
NBR O-rings on each interface

(Dome indicator, Lower/Upper housing, Shaft)

Cams
Poly-carbonate
Bushings
Bronze
Shaft
AISI303 Stainless steel
Earth Lug
Stainless steel
Bolts
All in stainless steel
Mounting bracket
Plate steel(ST series)

Stainless steel(SS series and MT1)
Dimensions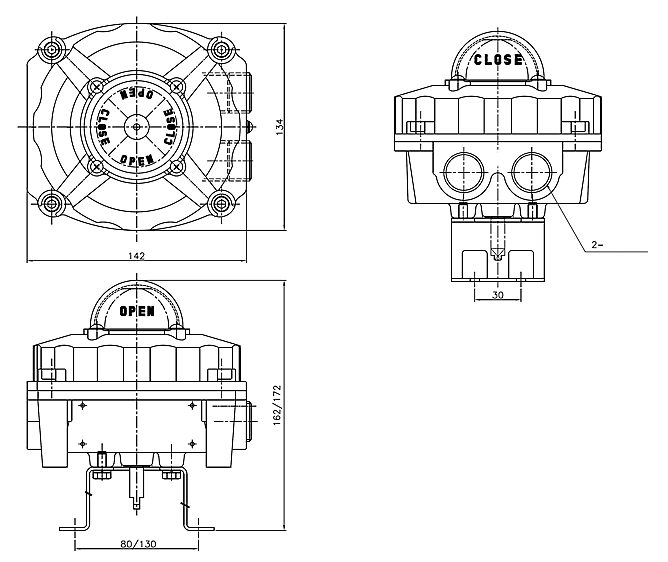 We will reply you within 24 hours on working days.