QJ3-40 Gas Relay
Application
The type QJ – 40 gas relay is used to protect various oil immersed enclosed transformers. During the time the transformer is served, the faults developed in the transformer will result in generation of gas. This gas is collected in the relay housing. When the volume of gas is collected to some extent, an alarm contact and trip contact will be actuated. Then alarm and tripping signals will be send out to realize the ends of protecting transformers.
Working Principle
The gas relay is completely full of oil when the transformer is in service. If the faults develop in the transformer, the gas coming from the decomposed oil will be collected in the relay housing. The oil level in the housing falls due to the air pressure and the float sinks downwards with the oil level. Then the float will contact magnetic switch C or D to  be switched on. When a volume of gas about 170 ml is collected, switch C is actuated and the alarm circuit gives alarm signal. For the oil level sinking caused by other reason (oil leak) the alarm circuit will react in the same way when serious fauls occur inside the transformer, large amount of gas will be accumulated. If a volume of gas more than 260ml is collected, magnetive switch D is switched on and will give a tripping signal. The tripping device is actuated to make transformer off line. The transformer is protected form the damage.
Ordering code

Service Condition
Working temperature – 30℃ ~ 95℃.
Technical date
Pipe diameter: ф40mm
Gas volume of alarm: 170ml ± 10%
Gas volume of tripping: 260ml ± 10%
Contact rating: DC/AC 220V 0.3A
Oil leaks test: 200kpa, 20min
Design
Inside the gas relay there are two mag – netic switches C.D and a float. Switch – on will send out alarm signal and tripping signal by connecting terminals.
Model:
QJ3-40, QJ3-40-TH.
Structure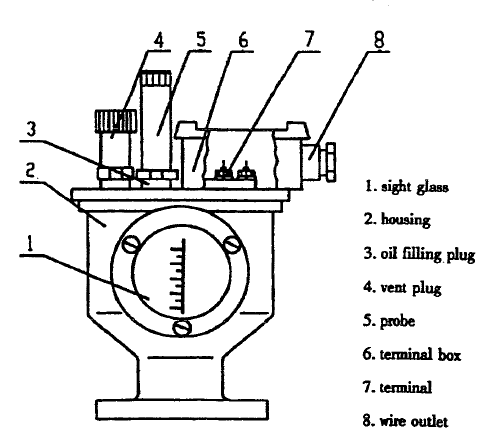 Wiring diagram