Description
YT-850M Limit Switch Box
Introduction
Limit switch box YT-850 series is a device which notifies the central control room or controller when the valve reaches the set position.
Product feature
Non-explosion
A wide range of uses with IP67 protection
Various limit switch options
Polyester powder coating of YT-850 resist the corrosion process.
Ordering Code
Specification
Model
YT-850M
YT-850P
Switch Type
Mechanical, 2 x SPDT
Inductive proximity sensor x 2

Model No. & Manufacturer

SS5GL

(Omron)

PSN17-5DNU

(Autonics, NPN type)

Switch Rating

AC
250V 3A

125V 5A

–
DC
250V 0.2A, 125V 0.4A,

30V 4A, 14V 5A, 8V 5A

12 ~ 24 VDC
Explosion Proof
Non-explosion proof
Enclosure Protection
IP 67
Ambient Temperature
-25 ~ 70°C (-13 ~ 158°F)
Conduit Entry
1/2 NPT or G 1/2 or M20x1.5P
Terminal
8 Points
Mounting Bracket Standard
NAMUR VDI/VDE 3845, ISO 5211
Housing Material
Aluminum
Painting
Polyester powder coating
Weight
880g (1.94 lb)
Dimensions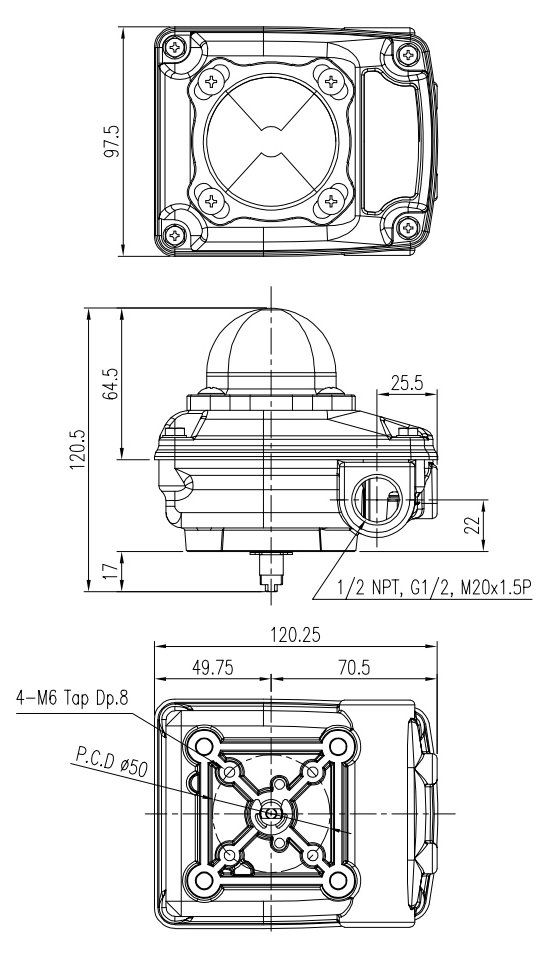 We will reply you within 24 hours on working days.