Description
APL-910N Limit Switch Box
Introduction
APL-910 Limit Switch Box , also can be called Valve Position Indicator or valve position monitor, is a kind of field instrument for detecting valve status in automatic control system.
Product feature
Housing, cover and brackets are all made of press-formed stainless steel to secure long life, superb corrosion resistance and durability.
Economical price;
Permanent laser marking on the nameplate;
Weatherproof IP67; Option: watertight IP68 (2 m 72hr);
Light weight and robust design;
Visual position indicator with tight indicator window sealing;
Spring loaded splined cam: easy setting without tools;
Captive cover bolts: no need to worry about losing them when the cover is open;
NAMUR standard stainless steel shaft and bracket.
Standard Specification
Standard
Option
Enclosure
Weatherproof IP67-IEC 60529
Watertight IP68 (2 m 72hr)-IEC 60529
Material
304 stainless steel
316L stainless steel
Ambient Temperature
-20℃~ 80℃
-50℃~ 80℃(Low temp.)

-40℃~ 110℃(High temp.)

Cable Entries
2x NPT1/2"
2x PF1/2", 2x M20, 2x PG13.5
Position Indicator
close: red open: yellow
Three positions (T-port, L-port)
Terminal Block
8p (0.08-2.5mm2)
12p (0.08-2.5mm2)
Coating
Anti-corrosion coating
Bracket
Type S: 80 x30 (H:20, 30)
Type O: 80 x30 (H:20, 30) & 130x 30 (H:30, 50)
Dimensions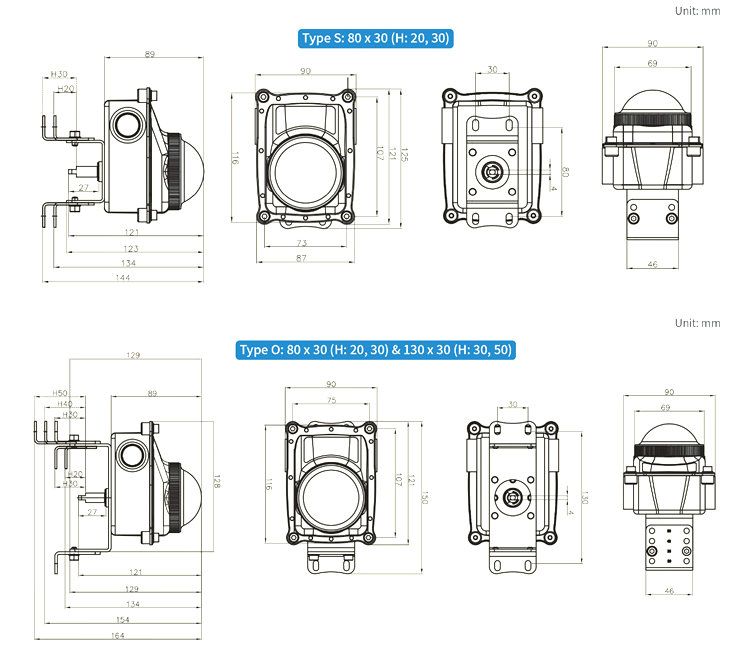 We will reply you within 24 hours on working days.