Description
ITS-111 Position Monitoring Switch
Description
ITS position monitoring switch is used for the valve and actuators which rotates 90degree quarter turn. The first function of ITS is to provide the visual indication of the current position of the valve and actuator. Dome indicator unit shows current position by color indication.
Secondly ITS provide electrical signal at the fully open or closed position by activating mechanical switches (SPDT, SPST), Proximity sensors and other magnetic sensors which independently makes function. Switches vary in a wide range and construction to meet customer's requirement.
Ordering code

Weather Proof
Position Monitoring Switches
ITS series position monitoring switch boxes are primary a rotary position indication device designed to integrate valve and NAMUR rotary pneumatic actuator with a variety of mounting options, internal switches or sensors and configurations.
ITS 100 series are specially designed suitable for small size pneumatic actuator and valves to reduce installation space, but provides high performance by equipping a variety of switches and sensors.
Specification
Standard
Option
Enclosure
Weather proof IP67, O-ring sealed
IP 68
Outside coating
Epoxy-Polyester inside and outside against corrosion
Nylon Coating

Special color Coating

Ambient temperature
-20 ℃~+80 ℃
Higher(~+100 ℃)

and lower (-40 ℃~)

Cable entries
2 – PT1/2″, other standard threads
(NPT1/2″, PF1/2″, M20x1.5 and PG13.5)
Terminal block
8 nos of terminal strips

(6 for switches, 2 for solenoid valve power)

Position indicator
Dome type 0~90
Others(3 way L-port, T-port)
Mounting bracket
Stainless steel acc. to VDI/VDE3845, NAMUR, SS1, SS2 as standard
SS3, MT1 as option
Switches(Sensors)
2-SPDT mechanical switch(Form C) as standard
Proximity sensors(P & F, Autonics), Others
Dimensions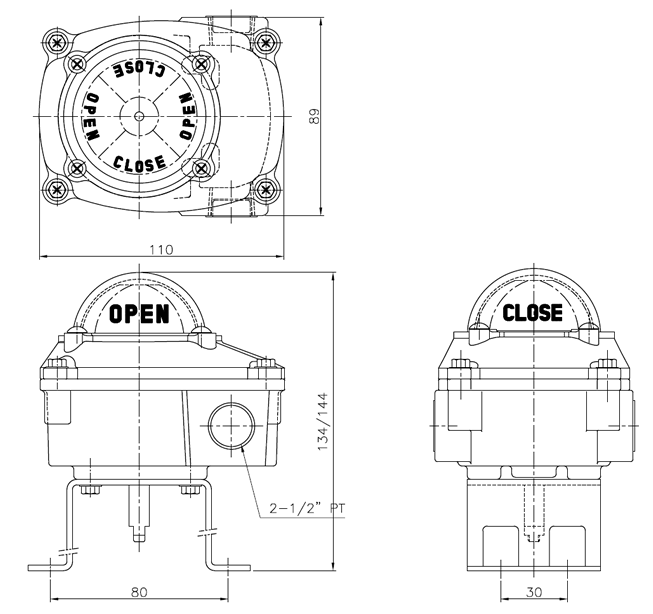 We will reply you within 24 hours on working days.